Have you or a precious loved one experienced a personal injury resulting from the action or inaction of a negligent third party? If this describes your situation, you could be eligible for compensatory damages in a court of law.
At Kane Dulin McQuinn Young, we've been seeking to improve the lives of our clients who have experienced distressing personal injuries for over 20 years.
Don't let those individuals who caused your suffering get away with what they've done. Contact our Denver personal injury attorneys to receive your free, no-obligation personal injury case review today.
Resources On This Page
Why You Need Our Denver Personal Injury Lawyers
Denver personal injury lawyers offer much more than legal advice. Your Denver personal injury attorney from Kane Dulin McQuinn Young is your source for Denver personal injury claims information. 
It is vital you understand the Denver personal injury claims process and how it affects your situation. Most personal injury claims settle before reaching a courtroom. That is why it is vital to have an aggressive, competent Denver personal injury lawyer to:
Investigate your accident;

Interview witnesses and collect evidence;

Calculate the extent of your damages;

Handle insurance company correspondence;

File a timely civil lawsuit;

Demand fair and just compensation from the insurance company for your current and future accident-related losses;

Settle your claim for an appropriate amount; or

Move towards trial if no settlement is forthcoming.
After a serious accident, your focus should be on healing. Let Kane Dulin McQuinn Young shoulder your legal burden. We are a full-service Denver personal injury law firm ready to tackle every aspect of your personal injury claim.
Our Denver Personal Injury Case Results
We are proud to represent injury victims in Denver and across Colorado with integrity and fierce dedication. Some notable settlements and verdicts we have secured on behalf of our clients include:
$11,000,000 Settlement: Contested liability in wrongful death trucking case in Weld County, CO.
$8,000,000 Settlement: Contested liability in catastrophic injury trucking case in Denver County, CO.
$3,650,000 Settlement: Contested liability in burn injury case in Adams County, CO.
What is a Personal Injury Claim in Denver?
A personal injury is any harm a person suffers due to someone else's actions or failure to act. Personal injuries may include physical, emotional, mental, or financial harm.
A personal injury claim is an insurance claim seeking damages for a personal injury. Personal injury claims are generally based on the legal concept of negligence. 
What is Negligence?
Negligence is the failure to act with the level of care that someone of ordinary prudence would have exercised under the same circumstances. 
For example, an ordinary person exercising reasonable judgment would stop at a red stoplight. A negligent person may choose not to exercise the same degree of care and proceed through the light without stopping.
Proving Negligence in a Denver Personal Injury Claim
Legally, negligence is composed of four elements. Denver personal injury lawyers must prove these to make a successful case.
The elements of negligence are as follows:
Duty. The at-fault party owed the victim a duty of care;

Breach. The at-fault party breached that duty of care;

Actual or proximate cause. That breach was the actual or proximate cause of the victim's harm; and

Damages. The victim suffered damages because of the at-fault party's conduct.
People and businesses generally owe others a duty of care. Sadly, they often choose to neglect this duty, making Denver personal injury accidents and the resulting claims common.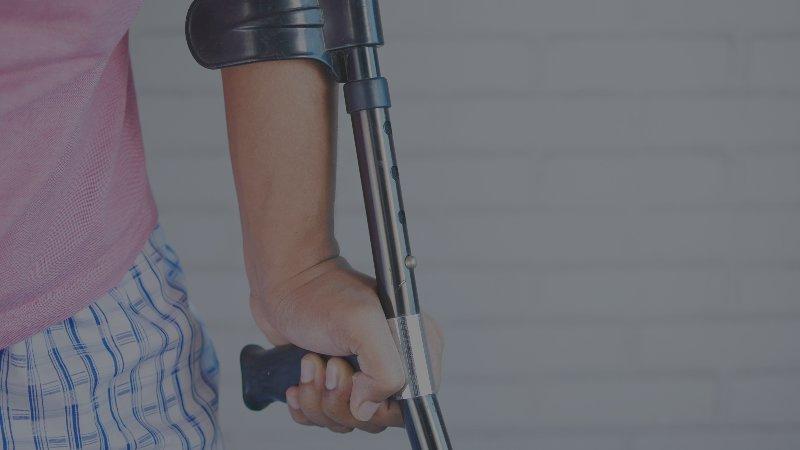 Common Denver Personal Injury Accident Claims
These are just a handful of examples of Denver personal injury cases that may cause a plaintiff to choose to bring legal action.
In Denver, you may have a personal injury case if you experienced any of the following:
Individuals can experience any of the above accidents and injuries and not be eligible to bring an action in a civil court. However, accident victims may have recourse in a Denver court of law if they're hurt due to a third party's direct or indirect actions.
"This was my first time needing a lawyer and was new to all of this. Everyone was incredibly understanding and compassionate I highly recommend this team of amazing people"

– Karys E.
Types of Personal Injuries in Denver
Personal injury accidents in Denver range in type and severity and so do the resulting injuries. Some frequently cited personal injuries include:
Broken and fractured bones;

Contusions;

Lacerations;

Drownings;

Electrocutions; 

Neck and back injuries; and

Head injuries.
Severe, life-altering injuries are categorized as catastrophic injuries in Denver.
Catastrophic Injuries in a Denver Personal Injury Claim
Catastrophic injuries are lifelong, disabling, and potentially disfiguring injuries. They may ultimately lead to death due to medical complications.
Common catastrophic personal injuries are:
Traumatic brain injury or TBI. A traumatic brain injury occurs when the brain's soft tissue is damaged due to a sudden force, impact, or blow to the head. An injury need not penetrate the head to cause a TBI. Traumatic brain injuries can temporarily or permanently affect a person's ability to think, understand, remember, and express emotions.
Spinal cord injury or SCI. A spinal cord injury is any damage to the bundle of nerves responsible for transmitting messages between the body and the brain. The location and severity of the injury determine the effect on the body. Spinal cord injuries may result in temporary or permanent paralysis, loss of sensation, and loss of bodily function from the site of the injury downwards.
Loss of limb. Losing a limb during or having a limb amputated as the result of a personal injury accident is life-altering not only physically but also mentally and emotionally. Using a prosthetic or adapting to a modified lifestyle takes time and a network of support that may include medical doctors, specialists, and counselors.
Burn injuries. Third and fourth-degree burns can be devastating to an accident victim's physical health and future wellness. Not only are burns extremely painful but they are slow-healing and prone to infection. Once healed, severe burns may limit a person's range of motion and respiration. Burns can disfigure facial features, leave permanent scars, and psychologically impact a victim for life.
Post-traumatic stress disorder. Post-traumatic stress disorder is a psychiatric disorder victims of serious accidents can develop. It may take months or years after an accident to appear. Its symptoms can be debilitating and are marked by: recurring nightmares and flashbacks of the event, emotional distress and physical reactions to reminders of the event, and avoidance of activities associated with the event.
Catastrophic injuries require extensive medical treatment and a large network of support services. These services are costly and out of reach for most people without the compensation afforded by a personal injury claim.
Compensation in a Denver Personal Injury Claim
Compensation in a Denver personal injury claim depends on several factors. No two accidents are the same nor are the resulting injuries.
Monetary awards are based on the following and more:
The severity of the injury;

The prognosis for recovery;

The time needed for recovery;

The amount of lost income;

Property damage or replacement costs;

Responsibility for the accident; and

Any legal caps on award amounts.
Even if an injured party shares responsibility for an accident, they may be entitled to recover compensation for their damages.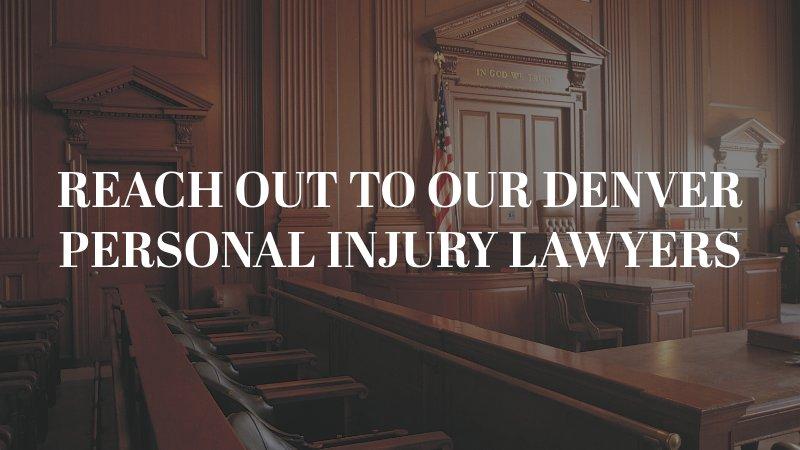 What is Comparative Negligence?
Colorado follows the comparative negligence system. This means injury victims who share responsibility for an accident may still recover damages. 
To recover, a victim must be found 50% or less responsible for an accident. Any person found more than 50% at fault is not entitled to compensation. 
A victim who is found partially at fault for an accident will have their damages award reduced by their percentage of fault. For example, in a case where a victim is found 30% at fault for their accident, an award of $100,000 would be reduced by $30,000.  
Damages Caps in Denver Personal Injury Claims
Damage caps are limits on the amount of money that can be awarded in a personal injury case. While Colorado does not cap economic damages, Colorado does have caps on certain types of non-economic damages recoverable by injury victims.
First, most non-economic losses are capped at $250,000 plus inflation. Medical malpractice cases are capped at $300,000, with a $1 million cap on total damages (with a few exceptions).
There is no cap on pain and suffering damages for those who suffer a permanent physical impairment.
What are Economic Damages?
Economic damages are losses with specific dollar amounts. Often these are items associated with bills, receipts, and statements. As stated above, there is no cap on economic damages in Colorado.
Common economic damages requested by Denver personal injury victims are:
Hospital bills

Surgical bills

Cost of prescription medications

Cost of medical devices

Coverage of occupational or rehabilitative therapy

Cost of counseling or psychiatric care

Cost of home or vehicle modification

Lost income

Loss of earning capability

Property damage

Travel expenses to and from accident-related treatment.
Compensation is available for current and future-approximated expenses, like medical expenses. Our experienced Denver personal injury attorneys will be able to gauge these amounts with the help of medical and financial experts.
What are Non-Economic Damages?
Non-economic damages may be capped as related above depending on the personal injury claim type. These damages are difficult to calculate as they are personal to the individual and of a subjective nature.
Non-economic damages in a Denver personal injury case may include payment for the following:
Physical pain and suffering;

Mental and emotional trauma;

Scarring and disfigurement;

Loss of the enjoyment of life; and

Loss of consortium (for a spouse).
A detailed journal of life after an accident and testimony of friends and family members can help in proving an injury victim's non-economic damages. 
What are Punitive Damages?
A final type of damages, called punitive damages or exemplary damages, may be available to a personal injury victim in Colorado. However, these damages are court-awarded and only in specific circumstances.
Punitive damages are meant to punish a wrongdoer not reward an injured accident victim. These damages are a means of discouraging future negligence or recklessness. 
Punitive damages are capped. They may not exceed the amount awarded for a case's actual damages. 

Denver Personal Injury FAQs
What is the Contingency Fee Arrangement, and How Does It Work?
A contingency fee arrangement in Denver is a way for us, as an injury law firm, to provide our legal services to you without requiring upfront payment. Instead of charging you a flat fee at the beginning, we agree to work on your case and only receive compensation if we are successful in obtaining a favorable outcome for you. In essence, our fee is contingent upon the success of your case.
This arrangement is particularly beneficial for individuals who may be facing financial constraints after an accident or injury in Denver. It allows you to pursue your legal rights and seek compensation without worrying about the immediate financial burden of legal fees. Our primary goal is to ensure that you receive the representation you deserve without adding to your stress during this challenging time.
What Evidence Will I Need to Gather to Support My Personal Injury Claim?
When pursuing an injury claim in Denver, it's vital to gather key evidence for a strong case. The following evidence would be helpful:
Medical Records: Gather treatment details to show the extent of your injury.
Visual Proof: Photos/videos of the accident scene, injuries, and damage.
Witness Statements: Unbiased accounts to support your version.
Accident Reports: Official documents from authorities.
Expense Records: Track medical and related costs.
Work Impact: Employment records for lost wages.
Experts: If needed, medical or accident analysis professionals.
Communication: Preserve emails, texts, and insurance correspondence.
Personal Journal: Record the daily impact of injuries.
How Long Will a Personal Injury Lawsuit Take?
The duration of a personal injury lawsuit in Denver can vary significantly based on the specific circumstances of your case. At our personal injury law firm, we understand that you're likely seeking clarity about the timeline, and we'll do our best to provide you with an idea of what to expect.
It's important to recognize that each case is unique, and factors such as the complexity of the legal issues, the extent of your injuries, the willingness of the opposing party to negotiate, and the court's schedule can all influence the timeline.
On average, a personal injury lawsuit might take several months to a couple of years to reach a conclusion. This includes the stages of investigation, negotiation, potential pre-trial motions, discovery (where both sides exchange information), and trial if necessary. Our team is dedicated to efficiently moving your case forward while ensuring that all necessary steps are taken to build a strong and compelling argument on your behalf.
Throughout the process, we'll keep you informed about the progress of your case, explain any delays that may arise, and work diligently to expedite the proceedings whenever possible. Reach out to our Denver injury attorneys for more guidance on your case.
Areas We Serve
We serve all over Denver, CO, including:
Capitol Hill | LoDo (Lower Downtown) | Highland | Cherry Creek | Washington Park | River North Arts District (RiNo) | Uptown (North Capital Hill)  | Baker (South Broadway) | Athmar Park | Five Points | Congress Park | Park Hill | City Park | Cheesman Park | Sloan's Lake | Platt Park | Sunnyside | Berkeley | Curtis Park | Stapleton | West Highland | Belcaro | Hilltop | Montclair | Cole | Cherry Creek North | Globeville | University Hills | Whittier | Virginia Village | University Park
Personal Injury Statute Of Limitations In Colorado
In Colorado, for most personal injury cases, you have two years to file your injury lawsuit against the negligent third party, according to the CO Rev Stat § 13-80-102 (2016). This timeframe starts from the moment of discovery of the injuries.
However, some variables can affect this. Here's a closer examination of how different circumstances can affect the statute of limitations in Colorado:
Wrongful Death: If a wrongful death results from a hit-and-run, that will change the statute of limitations. Vehicular homicides increase the statute of limitations to four years after the date of death.
Motor Vehicle Accidents: In Colorado, if you experience a motor vehicle accident, like a truck accident or motorcycle accident, due to the action or inaction of a third party, this changes the statute of limitations to three years.
Regardless of how long you have to file your personal injury case in Denver, we always give Colorado residents the same advice – don't wait. The longer you wait in your personal injury case, the more difficult it will be to assemble all the necessary elements in your case to win it.
Kane Dulin McQuinn Young: Trial Proven Lawyers Who Fight For Your Rights
If you need our Denver personal injury lawyers ready to support you and your family during this trying time, reach out to the firm of Kane Dulin McQuinn Young today.
Our extensive legal expertise has won our clients millions of dollars in successful trial verdicts and settlement offers.
So get in touch to request your free, no-obligation Denver personal injury case review today. We promise you'll hear from a real legal team member in just 24 hours.