Truck accidents are a perilous hazard facing Colorado motorists daily. And while there's never a straightforward situation facing victims after a Colorado truck accident, we know it is made worse when a truck accident is directly or indirectly attributable to the negligence of a third party.
If this describes what you or your loved ones are facing in the aftermath of a Denver truck accident, just know the law firm of Kane Dulin McQuinn Young is here to help.
As Colorado's premier personal injury law firm, we are passionately committed to the rights of all our clients. When seeking justice in your case, we always secure the maximum possible compensation in your Denver truck accident case – whether through settlement or taking your case to trial.
Contact our Denver truck accident lawyers to book your free, no-obligation truck accident case review. Request your appointment today, and you'll hear from one of our esteemed team members within 24 hours. We're ready to get to work for you.
Resources on this page
How Can a Denver Truck Accident Attorney Help Me?
Truck accident cases typically involve serious injuries and extensive property damage. Insurance companies are for-profit businesses and do not make money on settlement payouts. 
Without an experienced Denver truck accident attorney, your truck accident claim may be denied or you may be offered an insufficient settlement for your injuries. At Kane Dulin McQuinn Young, our truck accident attorneys will fight to ensure you receive a fair truck accident settlement, or we will take your case to court. 
Kane Dulin McQuinn Young will build you the strongest possible truck accident case through thorough investigation and evidence collection. We will gather the following types of information and more to strengthen your case:
Black box data;

Driver log books;

Traffic camera footage;

Drug and alcohol test results;

Eyewitness statements;

Police and medical reports; and

Expert witness testimony.
The attorneys at Kane Dulin McQuinn Young will also handle any insurance company correspondence and legal filings so you can focus on your physical, mental, and emotional accident recovery. 
To learn more about our client services and to speak with a skilled truck accident attorney in Denver, contact Kane Dulin McQuinn Young today. We want you to receive the legal support needed to move forward from your truck accident injuries.
Facts About Truck Accidents
Across the country, businesses use large trucks, often pulling a tractor-trailer, to transport goods from site to site. This makes them a constant presence on America's highways and interstates. Understandably, due to this fact, they're frequently involved in motor vehicle accidents.
The federal government has a specific definition of a large truck, classified by the National Highway Safety Traffic Administration (NHSTA) as a "medium or heavy truck, excluding buses and motor homes, with a gross vehicle weight rating (GVWR) greater than 10,000 pounds […] including both commercial and non-commercial vehicles."
The National Safety Council (NSC) found that 107,000 large trucks were involved in an injurious accident in 2020, with 4,842 large trucks involved in fatal crashes. Large trucks account for 9% of all motor vehicles involved in fatal crashes, despite just being 4% of registered vehicles on roads.
Truck Accident Statistics In Colorado And Denver County
According to NHSTA, in Colorado, approximately 3 to 4% of all motor vehicle accident-related fatalities involve large trucks. Large trucks were involved in 22 fatalities in 2020 alone in Colorado.
Denver County in 2019 had 22,085 crashes, with some incidents involving large trucks, according to the Colorado Department of Transportation (CODOT).
Our Denver Truck Accident Case Results
We are proud to represent injury victims in Denver and across Colorado with integrity and fierce dedication. Some notable settlements and verdicts we have secured on behalf of our clients include:
$11,000,000 Settlement: Contested liability for wrongful death trucking case in Weld County, CO.
$8,000,000 Settlement: Contested liability for catastrophic injury trucking case in Denver County, CO.
$7,750,000 Settlement: Catastrophic injury trucking case in Larimer County, CO.
Contributing Factors to Truck Accidents in Denver
Several factors contribute to truck accidents on Denver's roads and highways. Being aware of the following could help to prevent a deadly accident:
Trucks require a greater stopping distance. A loaded tractor-trailer going 65 mph needs approximately 600 feet or the length of two football fields in order to come to a complete stop. In inclement weather, this distance increases;

Trucks have blind spots. According to the Federal Motor Carrier Safety Administration (FMCSA), trucks have four blind spots. These are 20 feet in front of the cab, 30 feet behind, one lane to the left, and two lanes to the right;

Truck drivers may be unfamiliar with the road. Truck drivers may be unfamiliar with the road they are traveling. This could cause them to become lost and distracted;

Truck drivers are on a schedule. Truck drivers are on a delivery schedule. They could be running at an increased speed or under pressure to deliver on time;

Truck drivers may be driving drowsy. Drivers who drive longer than legally permitted or who continue to drive fatigued may make fatal mistakes;

Truck drivers may be under the influence of drugs or alcohol. The pressure of delivery schedules and long hours on the road may lead to drug and alcohol use on the road. This impairment significantly increases the chances of an accident;

Improperly loaded cargo can shift and cause a truck to jackknife or roll over. When cargo is overloaded or imbalanced it can result in an overturned truck and even a multi-car pileup.
Regardless of a truck accident's cause, these accidents result in some of the most catastrophic injuries to victims. 
Injuries That May Occur After A Truck Accident in Denver
When an individual experiences a truck accident, what type of injuries could they sustain? Here is an overview of what victims could experience after a Denver truck accident.
Brain Injuries
As the most complex organ of the human body, this command center of the human experience can be irreparably damaged due to a truck accident.
Concussion
Doctors consider concussions to be mild forms of traumatic brain injury. Instead of causing the brain to swell, it usually occurs when a hit to the head causes a loss of normal brain function.
After the blow to the head is experienced through an experience like a truck accident, the victim's brain will move within the skull, which can disrupt normal cognition.
Traumatic Brain Injury
Traumatic brain injuries (TBIs) are serious brain injuries typically sustained from external blunt force trauma to the skull, like an incident such as a truck accident. As the brain is one of the few organs in the body restricted by a bony shell (the skull in this case), whenever the brain swells due to injury, it pushes against the skull, crushing the brain tissue.
TBIs can cause inflammation, brain swelling, post-traumatic dementia, comas, vegetative states, and permanent brain death.
Soft Tissue Injuries
Acute soft tissue injuries are caused by sudden trauma like a truck accident and can occur anywhere in the body. These can be as basic as a mild sprain to muscle, ligament, or tendon tears.
Internal Bleeding
Blunt trauma, such as the impact of a truck accident, can cause internal bleeding. Internal bleeding occurs when body parts are crushed against an immovable or firm object, potentially at high speeds.
This causes the blood vessels in the body to tear or be crushed. Internal bleeding can affect multiple organ systems, all in different ways, but they are almost always serious injuries.
Spinal Injuries
The spine and spinal cord are one of the human body's largest systems of nerves, bones, and tissues. That's why a truck accident can cause many disorders and symptoms that are largely debilitating and cause long-term disability.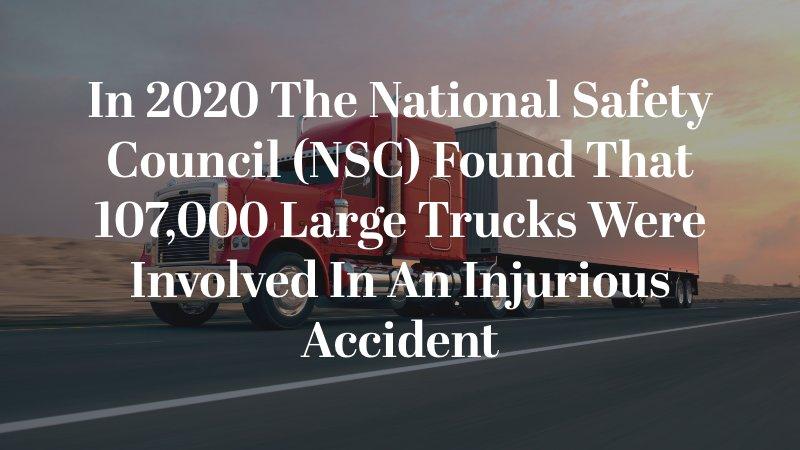 Spinal Column Injuries
The spinal column comprises 24 vertebrae and the sacrum, also known as the tailbone. Between each vertebra is a disk, which protects and cushions the bones. Injuries to the bones of the spine are usually what causes damage to the spinal cord.
Spinal Cord Injuries
A spinal cord injury (SPI) is when the nerves that extend from the brain stem to the low back are damaged. These nerve cells translate messages from the brain and send them throughout the body.
A spinal cord injury from a truck accident can cause conditions such as quadriplegia or paraplegia. According to the Merck Manual, the "most common cause of spinal cord injuries is motor vehicle crashes."
Broken or Fractured Bones
Any part of the body with a bone can be broken, fractured, or cracked. There are many different types and severities that victims of a truck accident can experience as a result of the incident:
Stable Facture: when a bone is broken, but yet still in alignment with the other pieces of bone in the affected body part.
Compound Fracture: also known as an open fracture, this type of fracture is when a piece of bone punctures the skin. This break will require a physician to reset the bone, likely through surgical means.
Comminuted Fracture: this type of fracture is akin to a crush or shattering, where the bone is broken into three or more pieces.
Cracked or Bruised Ribs
Similarly to a broken bone, a cracked rib is when one of the bones of the rib cage is broken. Cracked ribs often are caused by trauma, such as a truck accident, and can result in sharp pain, difficulty breathing, and discomfort.
In contrast, a bruised rib results from blunt force trauma to the chest, causing soft tissue damage surrounding the ribcage. Broken and bruised ribs commonly occur together, especially from a truck or other motor vehicle accident in Denver.
Burns
There are multiple ways an individual can experience a burn injury in Denver, but this wound is caused by an energy source damaging the body's tissue. In motor vehicle accidents, a thermal burn from hot metal or fire caused by fuel spillage can cause life-altering injuries.
Amputated Limbs
If the damage to any of the body's limbs is considered severe enough to be unable to reconstruct or save the limb, a physician may choose to amputate it. In some cases, amputation may be necessary to save the individual's life or prevent further complications.
Post-Traumatic Stress Disorder (PTSD)
On top of the physical injuries stemming from a traumatic situation like a truck accident, an individual may experience PTSD. This mental health condition can result in flashbacks and nightmares from traumatic circumstances. This can impact an individual's day-to-day functioning for years to come.

How Can The Circumstances Surrounding My Denver Truck Accident Affect My Injuries?
Depending on how the truck accident occurred, this can greatly affect the type of injuries an individual can experience. An accident involving two trucks will produce different health outcomes for those involved versus an accident involving a pedestrian or motorcyclist.
The less protective structures around the victim, the more likely the injuries will be severe enough to cause the victim to perish, which could be considered a wrongful death.
Statute Of Limitations In Truck Accident Cases in Denver
For most Denver personal injury cases, the statute of limitations is two years from the date the injuries were known. However, in personal injury cases due to a motor vehicle, that statute of limitations becomes three years.
Wrongful Death Statute Of Limitations In Denver
Many states have a longer time to file a wrongful death lawsuit. Colorado is the exception. If the injuries resulting from a Denver truck accident cause the person to perish, that statute of limitations is now two years starting from the date of death.
An exception to this is if the wrongful death was the result of a hit-and-run involving a truck. Due to the investigatory nature of these proceedings, the surviving family or designated beneficiary has four years from the date of death to file a case.
Regardless of how many years you have to file a claim, we always recommend that clients never delay starting proceedings in their case. If you do, you may find collecting all the requisite paperwork, documentation, and witness testimony more challenging, thus decreasing the odds of winning your Denver truck accident case.
In Denver, Who Is Held Liable For The Injuries Sustained From My Truck Accident?
All commercial vehicles can create complicated scenarios surrounding liability for those involved. Incidents involving large commercial trucks are included in this.
The federal government has strict control over who is liable in accidents involving Denver commercial vehicles and liability. The Federal Motor Carrier Safety Regulations (FMCSR) requires that commercial operations that lease trucks to truck drivers are responsible for those vehicles, as many unscrupulous freight operations in the past tried to claim they were not required to maintain the trucks.
Therefore, if a truck accident is due to a malfunction attributable to a lack of maintenance, the business may be liable; however, if the accident is due to driver error or negligence, the truck driver may be held liable. Additionally, whether the truck driver was driving on or off the clock can affect driver liability.
To understand issues regarding liability in your Denver truck accident case, you must contact a trusted legal advisor such as our Denver truck accident attorneys. Any worthwhile law firm will offer you a free case review and consultation to go over the finer details of your truck injury case with an attorney.
Federal Trucking Regulations
The Federal Motor Carrier Safety Administration is the chief regulatory agency of the trucking industry. Its mission is to prevent commercial motor vehicle injuries and fatalities through the enforcement of safety regulations and:
Holding high-risk carriers and drivers accountable for their actions;

Refining safety information systems and commercial motor vehicle technologies; 

Strengthening commercial motor vehicle equipment and operating standards; and

Growing safety awareness.
The FMCSA requires mandatory compliance with its regulations which include but are not limited to:
Alcohol and drug testing;

Driver qualifications;

Driver hours of service; 

Handling and transportation of hazardous materials; and

Truck maintenance, inspection, and repair.
More information about the FMCSA can be found at the Federal Motor Carrier Safety Administration.
Modified Comparative Negligence In Denver Motor Vehicle Cases
Many states nationwide use the principle of comparative negligence in personal injury cases, and Colorado is no different. A key thing to remember about the specifics surrounding Colorado's comparative negligence statute is that it is considered modified, not pure negligence.
Modified comparative negligence means that if any individual is found to be over 50% responsible for their injuries, they will not be eligible to receive damages in their personal injury case. Additionally, if an individual is found to be at all responsible, even if it is 49% or less, their damages will be reduced in proportion to how at fault they were for the accident.
How Much Is My Denver Truck Accident Case Worth?
Estimating how much an individual can receive in damages due to a Denver truck accident is difficult. At a bare minimum, a truck accident victim in Denver will likely be eligible to receive compensatory damages through a settlement or jury verdict.
Compensatory damages are calculated based on economic and non-economic damages. Economic damages include medical bills, lost wages, at-home or nursing care costs, and other real-world costs associated with the accident.
On the other hand, the non-economic damages amount to the intangible costs associated with a personal injury case. This can be understood as pain and suffering, emotional distress, and loss of society or companionship.
Understanding the compensatory damages you may be eligible for in your Denver truck accident case will better inform you how you and your family will choose to proceed in your case. Contact our Denver truck accident lawyers to get assistance with your case.
"I got in a nasty truck accident and they made sure to help me. They are hard working, down to earth, intelligent, and very friendly which made everything a lot easier than I anticipated."

– Jimmy M.
Denver Truck Accident FAQs
How Is a Truck Accident Case in Denver Different from a Regular Car Accident Case?
Truck accident cases in Denver tend to be distinct due to the sheer size and complexity of commercial trucks. These cases often involve more severe damages and injuries, requiring a different approach. These differences can make truck accidents more dangerous and complex than car accidents.
Trucking companies and drivers are bound by stringent federal and state regulations, which can involve multiple parties in determining liability – including the driver, the trucking company, and even manufacturers. Given the larger size of trucks, damages are often more extensive, covering both property damage and personal injuries. These cases require thorough investigation, including analyzing driver logs, maintenance records, and potentially black box data.
At our law firm, we specialize in handling both regular car accident and truck accident cases. Our expertise allows us to tailor our approach to the unique aspects of each case. Whether it's gathering evidence, negotiating with insurance companies, or representing you in court, we're here to guide you through the process, ensuring your rights are protected. Feel free to reach out for a free consultation to discuss your case in detail.
What Steps Should I Take Immediately After Being Involved in a Truck Accident?
Experiencing a truck accident can be overwhelming, but taking immediate steps can make a significant difference. At our law firm, we're here to guide you through the crucial actions right after the incident.
Safety First: Prioritize safety. Check for injuries and call for medical assistance if needed. Move to a safe location if possible to avoid further danger.
Notify Authorities: Call the police to report the accident. Their report will provide important details for your case.
Exchange Information: Gather contact and insurance details from all involved parties. Note down license plate numbers and trucking company information.
Document the Scene: If safe, take photos of the accident scene, vehicle damage, road conditions, and any relevant signs or signals.
Seek Medical Attention: Even if you feel okay, get a medical evaluation. Some injuries may not manifest immediately.
Limit Communication: While speaking to other parties and authorities, avoid admitting fault or providing detailed statements. Stick to the facts.
Witness Information: If there are witnesses, get their contact details. Their statements can be valuable later.
Preserve Evidence: Retain any documents related to the accident, such as medical records, police reports, and correspondence.
Avoid Quick Settlements: Refrain from accepting immediate settlement offers. Consult a legal expert before making any decisions.
Consult Legal Help: Reach out to a truck accident attorney. Their experience can provide essential guidance during this critical time.
How Do You Handle Cases Where the Trucking Company's Insurance Company Is Pressuring Me to Settle Quickly?
At our law firm, we're here to protect your interests and ensure you make informed decisions.
Insurance companies for trucking companies often try to pressure victims to settle quickly after a truck accident. They may do this by offering a low settlement amount or by threatening to take legal action if the victim does not settle.
We understand that being pressured to settle can be stressful and overwhelming. That's why we're here to help. We will fight for your right to full compensation and will not let the insurance company bully you into a quick settlement.
When faced with such pressure, it's essential to remember that insurance companies often aim to settle for the lowest possible amount. We advise against making hasty decisions. Instead, rely on our expertise. We'll assess the true value of your case, considering medical expenses, potential future costs, lost wages, and the overall impact of the accident on your life.
Our approach involves careful negotiation. We'll communicate with the insurance company on your behalf, ensuring your rights are upheld and that you're not rushed into an unfavorable settlement.
Areas We Serve
We serve all over Denver, CO, including:
Capitol Hill | LoDo (Lower Downtown) | Highland | Cherry Creek | Washington Park | River North Arts District (RiNo) | Uptown (North Capital Hill)  | Baker (South Broadway) | Athmar Park | Five Points | Congress Park | Park Hill | City Park | Cheesman Park | Sloan's Lake | Platt Park | Sunnyside | Berkeley | Curtis Park | Stapleton | West Highland | Belcaro | Hilltop | Montclair | Cole | Cherry Creek North | Globeville | University Hills | Whittier | Virginia Village | University Park
Justice Served Means Working With The Law Firm Of Kane Dulin McQuinn Young
Denver residents have been choosing Kane Dulin McQuinn Young for years for good reason. Our Denver truck accident attorneys never back down in a legal battle to make you and your family whole again after your truck accident injuries.
With millions in successful jury verdicts and settlements over our partners' extensive careers, we are the law firm Colorado trusts for truck accident cases.
So get in touch today for your free, no-obligation truck accident case review. We guarantee a team member will reach out to you in just 24 hours to book your appointment with our Denver truck accident attorney.