A car accident is a tragic occurrence that happens daily across the roads and highways of the United States. What can make an already difficult situation more tragic is when a car accident is caused due to the negligent activities of an individual driver.
If you or a loved one is experiencing pain, suffering, and injury after a Denver car accident, you may be eligible for financial compensation.
At Kane Dulin McQuinn Young, we understand that the aftermath of a car accident can be overwhelming, and our team is here to support you every step of the way. We understand that each case is unique and requires a personalized approach. Our team will work closely with you to understand your specific circumstances and build a compelling car accident case on your behalf.
Interested in learning more about what it's like working with our Denver car accident lawyers? We offer a free car accident case review. During this consultation, one of our team members will evaluate your case, answer your questions, and provide guidance on your legal options.
Resources on this page
Why Car Accidents Are A National Public Health Emergency
Nationally, the Centers for Disease Control (CDC) considers car accidents and motor vehicle crashes a public health crisis. Based on population, the United States has the highest motor vehicle crash death out of 29 high-income countries.
According to 2020 data, the CDC reported:
41,000 individuals died in crashes across the country
110 people die in motor vehicle and car accidents daily
2.1 million visits to emergency rooms are attributable to motor vehicle crashes
$430 billion was lost in the U.S. economy due to medical bills and lives lost
In the United States in 2020 alone, there were 4.8 million injuries severe enough to require a medical evaluation as noted by research by the National Safety Council (NSC).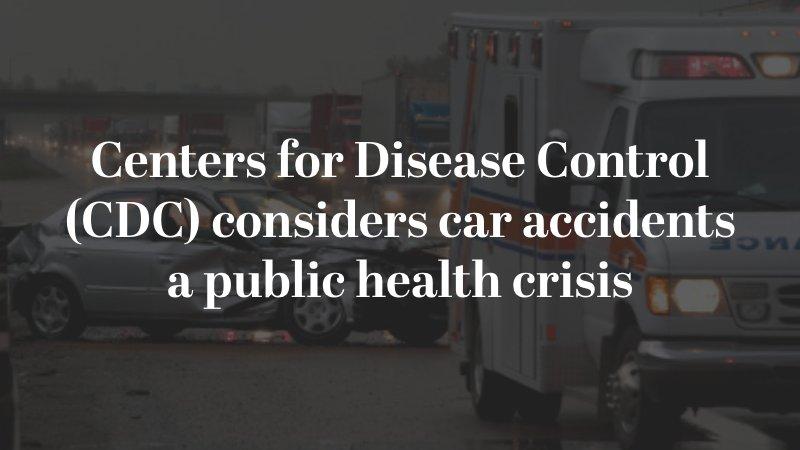 Car Accident Fatality Rates In Denver
In 2022, 64 car accidents yielded 67 fatalities in Denver county, according to the Colorado Department of Transportation (CDOT). This is the third-highest fatality rate for any county in the Centennial State. Statewide in 2022, there were 681 fatal crashes which caused 745 deaths.
Types Of Injuries In Denver Car Accidents
CDOT has a classification system of how individuals are injured in Denver car accidents.
Evident incapacitating injuries mean that those injured in the accident have a non-fatal injury that "prevents the injured person from walking, driving, or normally continuing the activities previously capable of performing before being injured." CDOT also classifies these injuries as "serious injuries."
Non-evident incapacitating injuries are when the injuries (which could be major or minor) do not prevent the individual from performing said activities independently. This does not mean that these injuries do not require hospitalization or a hospital visit, merely that the long-term health outcomes of this individual have a more positive prognosis.
Denver Car Accident Injury Rates
Denver is the number one county for car accidents yielding incapacitating injuries, with 478 serious injuries in 2019, according to the Colorado Problem Identification report published by CDOT. A quarter of all individuals injured in Colorado car accidents receive serious injuries.
This data is an alarming snapshot of what driving is like on Denver roads.
If you find yourself in the devastating situation where these statistics represent you or someone in your family, just know you're not alone. Oue Denver car accident attorneys are ready to stand with you in your car accident case to work on making this wrong right again.
What Are The Major Types Of Car Accidents in Denver?
Across the United States, victims can suffer from experiencing the following types of car accidents:
The National Highway Safety Traffic Administration (NHSTA) and the Insurance Institute for Highway Safety (IIHS) only perform crash tests for vehicles to mimic some of these accidents. Many of NHTSA's crash test protocols have not been updated since the organization began crash testing in the 1970s under the New Car Assessment Program (NCAP).
This can yield a lack of manufacturer safety protocols for many cars Denver drivers utilize on the roads daily. In a worst-case scenario, a car accident caused by a careless driver can be made much worse due to the design flaws of some cars.
Additionally, individuals in a car or other motor vehicle can experience any of the above accidents with any of the following types of motor vehicles:
SUVs
Buses
Construction equipment or tractors
And, finally, car accidents can occur involving individuals not using motor vehicles or other street-legal vehicles, such as:
Pedestrians using mobility devices, such as a wheelchair or mobility scooter
Individuals using electric scooters or skateboards
Moped and hoverboard riders
Any damage or injuries sustained by those involved in this accident will depend on whether multiple vehicles were involved, which vehicles were involved, and whether safety equipment or protocols were used.
Why Do Car Accidents Happen?
In most cases, a driver that is overwhelmingly at fault in a car accident will likely not be actively attempting to hurt, injure, or kill another person. So what would cause a Denver driver to be negligent on the road?
According to research from NHSTA's Crash Stats program, car accidents are primarily caused by driver error. 94% of crashes in this data pool are associated with errors from the driver, which equates to over 2 million crashes in this study.
Common driver errors NHSTA reported include:
Paying inadequate attention to the road or surroundings
Being distracted
Speeding
Taking a curve or turn too quickly
Performing illegal driving maneuvers
Judging other driver behaviors incorrectly
Getting inadequate sleep
Losing control of the vehicle
As the Colorado Department of Transportation (CDOT) found in its 2019 Problem Identification report, 85% of all traffic accidents in Denver are preventable. If negligent drivers paid more attention to the road, there would likely be a notable decrease in car accidents.
Understanding Driving Under The Influence
Additionally, the use of alcohol and legal and illegal drugs can impact how deadly a car accident can be. In fact, in research performed by CDOT, 36.6% of fatal motor vehicle crashes were classified as "impaired crashes," – meaning that at least one of the parties responsible for the car accident was driving under the influence of substances such as drugs or alcohol.

Potential Injuries Sustained From Car Accidents In Denver
A car accident, whether involving another car or a different type of vehicle, can cause grave medical and emotional injuries to the victim.
In Denver car accident cases, victims of a third party's negligent activity can experience the following injuries as a result of a motor vehicle crash or collision:
Soft Tissue Injuries
Internal Bleeding
Broken Bones
Injuries such as the above shouldn't be taken lightly. Even if you think what has happened to you or a loved one isn't worth bringing a case to a Colorado court of law, talking to a trusted legal advisor such as our Denver car accident attorneys can help you understand your options after your car accident.
Damages In Denver Car Accident Cases
Victims of car accidents in Denver often suffer from physical and emotional trauma, loss of income, and mounting medical bills. Thus, if the negligence of a third party caused the accident, the victim may be entitled to compensation.
Like many states across the United States, individuals who experience a car accident as a result of another driver's negligence or inattention to the road can receive compensatory and punitive damages in their car accident case.
Compensatory Damages In Denver Car Accidents
This type of damage can be split into economic and non-economic damages. Economic damages are the tangible, real-world costs associated with a car accident. This category includes medical bills, long-term care costs, lost wages, property damage, and lost future earning potential.
Non-economic damages, on the other hand, are intangible costs incurred after an accident by a victim. This can be the equivalent of pain and suffering, emotional distress, anxiety and depression, loss of consortium, society, and companionship.
Damages Caps In Colorado Car Accidents For Compensatory Damages
In Colorado, there are no caps on economic damages in Colorado. However, there are damage caps for non-economic damages as dictated by the Colorado Secretary of State. These damages are periodically adjusted for inflation per the current consumer price index for the Denver-Boulder area.
Depending on the date of the incident, these caps can range from $250,000 to $500,000 plus inflation. Additional damage caps might come into play if the plaintiff in the car accident case was driving a governmental car or representing a governmental entity in Colorado.
A trusted legal team such as Kane Dulin McQuinn Young would be able to assist you with navigating the complexities and nuances surrounding damages in Colorado car accident cases.
Punitive Damages In Denver Car Accidents
As opposed to compensatory damages, which seek to offer financial compensation to assist with tangible and intangible costs of a car accident in Colorado, the goal of punitive damages is to discourage other parties from engaging in the same type of negligent behavior.
These damages are typically only awarded in cases where the defendant's conduct was reckless, intentional, or malicious and are intended to signal that such behavior will not be tolerated.
In most cases in Colorado, punitive damage awards cannot be greater than the amount of compensatory damages.
Damages For Car Accident-Related Wrongful Death Cases
Non-economic damages stemming from wrongful death (even due to a car accident) are also subject to similar damage caps. These are also subject to the same damages schedule published on the Secretary of State's website.
Statute Of Limitations For Colorado Car Accidents
For motor vehicle-related injuries, the statute of limitations is 3 years, starting from the date of discovery of the injuries.
However, if the accident results in the wrongful death of the family member or the victim's injuries cause them to pass away, that statute of limitations shifts to 2 years after the victim's death date.
Regardless of how much time you have to start proceedings in your Denver car accident case, never delay in beginning work on your car accident case. The longer you wait, the more likely the evidence, witnesses, and other supporting documentation needed in your case will be more difficult to track down.
Why Work With A Trusted Lawyer After Your Denver Car Accident?
In the aftermath of your car accident, it is important to seek legal representation. Hiring a trusted Denver car accident lawyer after your accident can provide you with the guidance and support you need during this difficult time. A skilled lawyer, like those that make up the Kane Dulin McQuinn Young team, can help you navigate the complex legal process that follows.
Whether you are negotiating with insurance companies or pursuing legal action against the responsible party, a car accident lawyer in Denver can protect your interests. Always make sure to request a consultation with your prospective legal partner before working with them to see if you are a good fit.
Experience, Expertise, And Trust: Kane Dulin McQuinn Young Is The Law Firm To Count On
At the firm of Kane Dulin McQuinn Young, we are proud to work with our clients to ensure they get the justice and due process that their car accident case deserves. While nothing can ever take away the pain and suffering after a car accident, our team does what we can to make things right.
As one of Colorado's best legal teams, we'll work tirelessly to ensure that you receive the compensation you deserve and that those responsible for you or your loved one's accident are held accountable.
Getting started is as easy as requesting your free car accident case review. A real team member will be in touch in just 24 hours to schedule your consultation so contact us today!