Colorado has some of the most scenic highways and byways in the United States. As one of the state's unofficial monikers is the Gateway to the Rockies, locals, and tourists come out to Denver and surrounding cities to enjoy the views of the great outdoors.
But disaster can easily strike individuals traversing these beautiful roads, especially if they're on a motorcycle. Car and vehicle accidents involving motorcycles are all too common on Colorado roads, often injuring or killing the motorcycle riders involved and tearing families apart.
If this type of disaster has struck you or a loved one, it's important to understand what your options are. At Kane Dulin McQuinn Young, we want to share that those motorcyclists injured due to a car or other motor vehicle accident may be eligible for compensation.
Our trusted, skilled, and trial-proven Denver motorcycle accident attorneys have received many successful settlements and trial verdicts for our clients, amounting to millions of dollars won since the firm was established.
If you're ready to get the justice you and your family deserve in your Denver motorcycle accident case, contact our firm for your no-obligation, free case review today. During your motorcycle accident consultation, you'll meet with a valued member of our legal team, and we'll discuss your options in your motorcycle crash case at length.
Resources on this page
The Scary Reality Of Motorcycle Wrecks
Across the nation, there were 5,579 motorcyclist fatalities in 2020, accounting for 15.6% of fatalities according to the National Highway Safety Traffic Administration (NHSTA)'s Fatality Analysis Reporting System (FARS).
In 2021, there were an estimated 202,474 motorcycles on Colorado roads. Within that same year, there were 140 motorcyclist fatalities. In Denver County alone, 11 motorcyclists lost their lives after being in a motor vehicle accident.
For every mile traveled by a motorcycle in the United States, the risk of being killed in an accident is 34 times higher, and the risk of being injured is 8 times higher.
Despite this surge of accidents and deaths, there is often a noted lack of courtesy and understanding offered to Colorado motorcycle riders.
Our Denver Injury Case Results
We are proud to represent injury victims in Denver and across Colorado with integrity and fierce dedication. Some notable settlements and verdicts we have secured on behalf of our clients include:
$11,000,000 Settlement: Contested liability in wrongful death trucking case in Weld County, CO.
$8,000,000 Settlement: Contested liability in catastrophic injury trucking case in Denver County, CO.
$3,650,000 Settlement: Contested liability in burn injury case in Adams County, CO.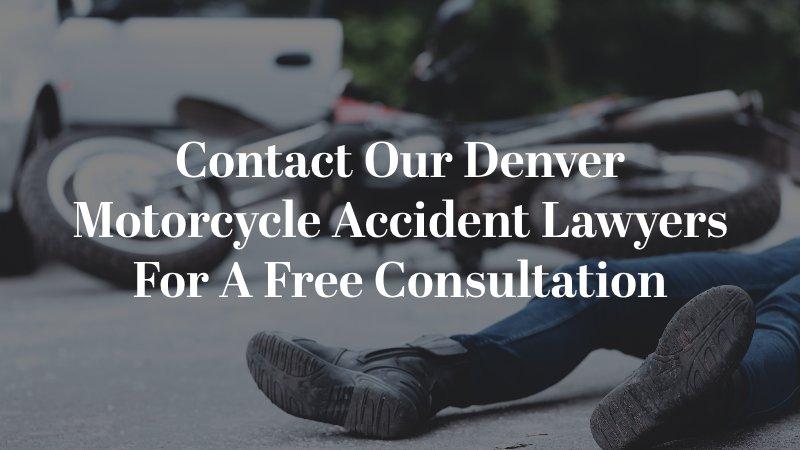 Why Motorcyclists Get In Accidents Due To Motorist Negligence in Denver
For you (or your loved one) to comprehend the issues surrounding your case, you need to understand why motorcyclists are injured or perish on Colorado highways and roads each year.
NHSTA reports that 94% of vehicle crashes occur due to driver negligence and error.
A motorist may cause a motorcycle accident via any of the following negligent actions:
Inattentively opening car doors
Reckless driving
Speeding
Lane splitting or switching
Sudden stops
Inattention to the road
Left turns and yield failures
Blind spots
A collision between a motorcycle and a pedestrian could also occur when a pedestrian is crossing the road at an intersection without carefully checking for oncoming traffic, and a motorcycle traveling at a high speed fails to stop or avoid the pedestrian in time, resulting in a pedestrian accident.
Common Injuries Stemming From Denver Motorcycle Accidents
As a car or other four-wheeled vehicle has more crush protection and restraints than motorcycles, this can yield more intense injuries than other means of transportation.
Commonly studied motorcycle injuries include the following:
Additionally, although they are not as commonly studied, motorcycle injuries can also yield burn injuries, crushed limbs, torn joints and ligaments, and amputations of limbs and digits.
The fact that Colorado only requires age-specific helmets can worsen injuries from motorcycle accidents. The Centennial State only requires helmets for minors under 17.
Types Of Damages In Denver Motorcycle Cases
Personal injury cases in Denver often involve different damages, such as compensatory, punitive, economic, and non-economic damages.
Economic Damages: real, tangible costs associated with the victim's injuries. This includes medical bills, care expenses, and lost wages or earning potential.
Non-Economic Damages: intangible costs associated with the victim's injuries. This includes categories such as pain and suffering, emotional distress, and loss of society.
Punitive Damages: damages that have no tie to the victim but seek to punish the defendant for exceptionally reckless or negligent actions.
What's My Denver Motorcycle Accident Case Worth?
An ethical legal advisor cannot give you a guaranteed dollar value of your motorcycle case settlement or verdict.
However, some factors, such as the following, will likely affect your eligible compensation.
Liability: as Colorado is a modified comparative negligence state (meaning the value of damages is reduced proportionally to how at fault you were in the motorcycle accident), you or your loved one's hand in the motorcycle accident will impact how much you can receive.
Injury Severity: if it is determined the victim of a motorcycle accident will require support in a way that was not required before the accident, then more damages will likely be awarded in such a case.
Insurance Coverage: Colorado is a "fault" state for car insurance, meaning that the liable party's insurance will be responsible for losses without the injured party's coverage coming into play.
Sustained Financial Losses: if the financial damages to the injured party are grievous, then it is likely that a settlement or a jury verdict will be greater in a Colorado motorcycle accident case.
Contact our Denver motorcycle accident lawyers to see what your case may be worth.
"This was my first time needing a lawyer and was new to all of this. Everyone was incredibly understanding and compassionate.. I highly recommend this team of amazing people."

– Karys E.
Statute Of Limitations In Colorado Motorcycle Accident Cases
For motor vehicle-related cases in Colorado, the statute of limitations is 3 years from when the injuries were discovered.
If the accident causes the victim to pass away, then family members may utilize the wrongful death statute of limitations, which starts from the time the motorcycle accident victim dies.
Denver Motorcycle Accident FAQs
How Can a Denver Motorcycle Accident Injury Lawyer Help Me with My Case?
With specialized expertise, we navigate the unique complexities of motorcycle accidents, creating a tailored plan for your Denver motorcycle accident case. We handle insurance communications, ensuring your rights are protected and your interests prioritized.
Evidence gathering is key. We meticulously document accident details and analyze records. Our negotiation skills aim for a fair settlement covering medical expenses, damages, and impact on your life.
Partner with us and gain a strong advocate during this challenging time. Reach out for a free consultation, and let us guide you toward resolution with confidence.
What Evidence Is Crucial for Building a Strong Motorcycle Accident Injury Case in Denver?
Building a strong motorcycle accident injury case in Denver requires gathering and presenting strong evidence. Here are some of the most important pieces of evidence that can be used to build a strong case:
Police report: The police report is an official record of the accident. It can include information about the time, date, location, and circumstances of the accident. It can also include information about the vehicles involved, the injuries sustained, and the drivers' statements.
Medical records: Your medical records document your injuries and treatment. They can be used to prove the severity of your injuries and the cost of your medical care.
Witness statements: The statements of eyewitnesses to the accident can be very helpful in proving liability. Witnesses can provide information about what happened, who was at fault, and the extent of your injuries.
Photographs or videos: Photographs or videos of the accident scene can be very helpful in reconstructing the accident and proving liability. They can also be used to document your injuries.
Expert witness testimony: In some cases, it may be necessary to hire an expert witness to testify about the cause of your injuries or the value of your damages. An expert witness can provide valuable testimony that can help you win your case.
We will work with you to gather all of the evidence necessary to build a strong case for your Denver motorcycle accident injury claim. We will also work with you to get the compensation you deserve.
If the Motorcycle Accident Resulted in Serious Injuries, How Do I Calculate the Damages I'm Entitled To?
At our law firm, we understand the significance of these situations. We'll work closely with you to assess the full extent of your injuries and their impact on your life. This involves evaluating medical expenses, ongoing treatments, potential future medical needs, and any necessary lifestyle adjustments.
We also take into account the financial losses you've experienced due to the injuries. This includes lost wages, reduced earning capacity, and the overall disruption to your daily routine.
In addition to these tangible costs, we consider the intangible damages like pain, suffering, and diminished quality of life. While harder to quantify, they hold just as much importance.
Our experienced team will utilize a combination of medical records, expert opinions, and legal knowledge to ensure all aspects of your damages are thoroughly evaluated. Every case is unique, and we'll tailor our approach to your specific circumstances. Feel free to reach out for a free consultation to discuss your case in detail.
What Is the Process of Working with a Denver Motorcycle Accident Attorney Lawyer, and What Are the Associated Costs?
When you partner with us, the journey starts with an initial free consultation. This is your opportunity to share your situation, ask questions, and get a sense of how we can assist you. It's a crucial step to ensure we understand your case fully.
Now, let's talk about costs. At our law firm, we operate on a contingency fee basis. This means there are no upfront costs or hourly fees. Our fee is contingent on the outcome of your case. If we succeed in securing compensation for you, our fee is a percentage of the amount recovered. If we don't win, you don't pay us anything.
Throughout the process, we'll dive into the details of your case. This includes gathering evidence, negotiating with insurance companies, and possibly representing you in court. We're here to simplify the legal complexities and guide you at every step.
Remember, your well-being is our priority. We aim to make the process as stress-free as possible. Reach out for a free consultation, and let's discuss your case and any concerns you have about costs. We're here to support you and ensure your rights are protected.
Areas We Serve
We serve all over Denver, CO, including:
Capitol Hill | LoDo (Lower Downtown) | Highland | Cherry Creek | Washington Park | River North Arts District (RiNo) | Uptown (North Capital Hill)  | Baker (South Broadway) | Athmar Park | Five Points | Congress Park | Park Hill | City Park | Cheesman Park | Sloan's Lake | Platt Park | Sunnyside | Berkeley | Curtis Park | Stapleton | West Highland | Belcaro | Hilltop | Montclair | Cole | Cherry Creek North | Globeville | University Hills | Whittier | Virginia Village | University Park
Kane Dulin McQuinn Young Is Denver's Legal Team Of Choice
If you're looking for a skilled Denver motorcycle accident attorney, look no further than the firm of Kane Dulin McQuinn Young. Our trial-proven lawyers aren't afraid to work hard to get your case to a fair compensatory conclusion.
Motorcycle accidents in Denver can be challenging, leaving motorcycle accident victims dealing with injuries, medical expenses, and insurance companies. Seeking immediate medical care is crucial for recovery, while having a Denver motorcycle accident attorney by your side can protect your rights and ensure fair financial recovery. They can navigate the tricky insurance process, so you can focus on healing. With the right support, you can sail through these tough times and get back on track.
Getting started with our Denver motorcycle accident lawyers is as easy as requesting your free, no-obligation motorcycle case review today. We'll work through all the elements in your Denver motorcycle accident case during this free consultation. We'll give you our honest recommendation of the best steps in your case.
So request your case review today. A real member of our team will contact you in just 24 hours to schedule your appointment.