Pedestrian accidents can result in devastating injuries and even death, leaving victims and their families with severe physical, emotional, and financial burdens. In Denver, too many individuals are suffering after being struck by a motorist.
If this describes something you or a loved one has experienced, the trusted law firm of Kane Dulin McQuinn Young is standing ready to help you. Our experienced team of Denver pedestrian accident lawyers is trial-proven and ready to get you the maximum possible compensation for your Denver pedestrian accident claim.
Request your free consultation with our personal injury team who has gotten millions of dollars for clients throughout our careers.
Resources On This Page
Defining Pedestrian Accidents In Denver
Across the United States, pedestrian accidents make up 16.9% of all traffic deaths, according to the Governor's Highway Safety Association (GHSA).
The National Highway Safety Traffic Administration (NHSTA) defines a pedestrian as "any person on foot, walking, running, jogging, hiking, sitting, or lying down who is involved in a motor vehicle traffic crash."
This definition also excludes people on "personal conveyances" such as scooters, skateboards, and hoverboards, as well as those using mobility devices such as mobility devices, such as a wheelchair or motorized mobility scooter.
Pedestrian Accident Statistics In Denver
Colorado ranks 29th in the number of pedestrian fatalities in 2020.
109 individuals died as a result of pedestrian accidents in 2022.
Denver County ranks #3 for pedestrian fatalities in 2021, with 15 pedestrian deaths. However, Denver only has two fewer total pedestrian deaths than the county with the most pedestrian deaths.
Our Denver Injury Case Results
We are proud to represent injury victims in Denver and across Colorado with integrity and fierce dedication. Some notable settlements and verdicts we have secured on behalf of our clients include:
$11,000,000 Settlement: Contested liability in wrongful death trucking case in Weld County, CO.
$8,000,000 Settlement: Contested liability in catastrophic injury trucking case in Denver County, CO.
$3,650,000 Settlement: Contested liability in burn injury case in Adams County, CO.
Incidents That Could Result In A Denver Pedestrian Accident
Nobody wants to be involved in a pedestrian accident. However, if they do occur, here are the potential and common causes of why they happen:
Distracted driving
Negligent driver
The most common form of a pedestrian accident in Denver is a collision with a car or other motor vehicle. Following the speed limit that's posted as well as abiding by traffic laws may decrease the chances of pedestrian accidents.
Reasons Why Motor Vehicles Hit Pedestrians in Denver
While intentionally striking a pedestrian as they are walking in Denver isn't impossible, it is fairly uncommon. Most often, motorists hit pedestrians because they aren't paying attention to the road. 94% of motorist accidents result from driver intention and error.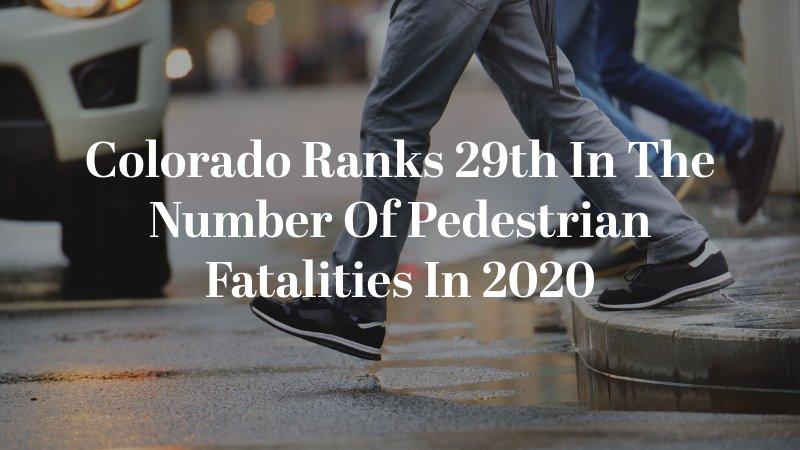 Types Of Injuries That Could Result From A Denver Pedestrian Accident
Individuals who are the victims of pedestrian accidents potentially may receive the following personal injuries as a result:
It is worth stating overtly that pedestrian injuries are often more serious because of the fact they typically have no protective equipment to keep them safe.
Even if individuals wore a helmet while walking around on Denver roads, that would not fully keep them safe from a truck hitting them at 50 miles per hour. Contact our Denver pedestrian accident attorneys at our law firm for a free consultation.
Statute Of Limitations In Pedestrian Cases
Denver pedestrian cases are generally governed by the Colorado statute of limitations that applies to motor vehicles, which gives individuals and their family members three years to file a case for injuries.
Understanding Wrongful Death In Denver Pedestrian Accidents
In Colorado, if a pedestrian accident ends with the victim's wrongful death, the spouse or parents of the individual (if the person is unmarried with no children) may bring a wrongful death suit in the first year after the person passed.
After that year passes, then the children of the deceased are eligible to file a claim. It's important to note that no additional family members (such as aunts, uncles, grandparents, or family friends) can bring a wrongful death case.
The eligible family members discussed in this section have two years from the date of death to file a pedestrian accident case.
This statute of limitations does change if the pedestrian accident resulted from a hit and run. If the pedestrian accident occurred due to a hit-and-run and the individual passed away after the car accident, then the victim's family has four years to begin proceedings.
How Much Compensation Could I Gain In My Pedestrian Accident Case In Denver?
While we can't give you a guaranteed number or dollar amount, here are some variables that may affect and influence compensation from your Denver pedestrian accident case.
Severity of injuries: the more severely injured you are, the more money you can expect to receive due to a settlement or jury verdict.
The total amount of your health care costs: damages will also be heavily influenced by your medical bills which would be the total amount spent on medical care, including hospitalization, doctor appointments, and therapy. Any and all costs associated with your injuries are included here, both those you've already paid and expect to pay in the future.
Income lost and potential future income: you may be eligible for lost-wage compensation if injuries from the accident prohibit you from working. Additionally, you may be eligible for damages for the loss of potential earning capacity due to your injuries.
Damages for pain and suffering: this type of damage is intended to compensate for the suffering you've endured due to your injuries, be it bodily discomfort, emotional grief, or mental anguish.
"The support, guidance, kindness and consideration they gave me through this process was what every client should expect from their attorneys. I truly felt cared for, coached, hand held and held up during this very difficult time."

– Bambi W. 
Denver Pedestrian Accident FAQs
What If the Driver Responsible for the Accident Fled the Scene or Is Uninsured?
If the driver responsible for the accident fled the scene or is uninsured, you may still be able to recover compensation for your injuries. In Colorado, you may be able to file a claim against your own uninsured motorist (UM) coverage. UM coverage is designed to protect you in the event that you are injured in an accident by an uninsured or underinsured driver.
In some cases, you may also be able to file a lawsuit against the driver who fled the scene or is uninsured. If you decide to file a lawsuit, we can help you navigate the legal process and fight for the compensation you deserve.
Here are some additional things to keep in mind if the driver responsible for the accident fled the scene or is uninsured:
Get the license plate number of the other vehicle, if possible. This will help the police identify the driver and file a report.
Take pictures of the damage to your vehicle and the surrounding area. This evidence can be helpful in proving that you were in an accident and that the other driver was at fault.
Seek medical attention, even if you don't feel injured. This will document your injuries and make sure that they are properly treated.
Contact your insurance company as soon as possible. They will be able to help you file a claim.
Consider hiring an attorney. A Denver pedestrian accident attorney can help you navigate the legal process and fight for the compensation you deserve.
We understand that being involved in a car accident with an uninsured driver can be a stressful and frustrating experience. Contact us today to schedule a free consultation and we can discuss your case in more detail.
Do I Need to Go to Court to Pursue a Denver Pedestrian Accident Claim, or Can It Be Resolved Through Negotiation?
Whether you need to go to court to pursue a Denver pedestrian accident claim or if it can be resolved through negotiation depends on a number of factors, including the severity of your injuries, the amount of damages you are seeking, and the willingness of the insurance company to settle.
In many cases, pedestrian accident claims can be settled outside of court, through a process called negotiation. In negotiation, we will work with the insurance company to reach an agreement that compensates you for your injuries and losses. This is often a faster and less expensive way to resolve a claim than going to court.
However, if you have suffered serious injuries or are seeking a significant amount of damages, you may need to go to court to get the compensation you deserve. In court, a judge will decide the outcome of your case based on the evidence presented.
Contact us today to schedule a free consultation and we can discuss your case in more detail.
If the Pedestrian Accident Resulted in Long-Term Injuries, How Do I Calculate the Damages I'm Entitled To?
If you have suffered long-term injuries in a car accident, you may be entitled to damages for your pain and suffering, lost wages, medical expenses, and other losses. However, calculating the amount of damages you are entitled to can be complex, especially if your injuries are permanent or disabling.
The amount of damages you are entitled to will depend on the severity of your injuries, the length of time you have been injured, and the impact your injuries have had on your life. We will work with you to calculate the damages you are entitled to and fight for your right to full compensation.
Our experienced team will use a combination of medical records, expert opinions, and legal expertise to ensure all aspects of your damages are considered. We understand that every case is unique, and we'll tailor our approach to your specific situation.
What Is the Process of Working with a Denver Pedestrian Accident Lawyer, and What Are the Associated Costs?
When you partner with our law firm, you're taking a step towards obtaining the support you need. The process begins with a free consultation, where we'll listen attentively to your situation, answer your questions, and provide an initial assessment of your case. This consultation comes at no cost to you – it's an opportunity for us to understand your unique circumstances.
As for costs, we operate on a contingency fee basis. That means you don't need to worry about upfront payments or hourly fees. Our fee is tied to the outcome of your case. If we succeed in obtaining compensation for you, our fee is a percentage of the amount recovered.
Reach out for a free consultation to discuss your case in detail. We're ready to provide the guidance you need to navigate this journey with confidence.
Areas We Serve
We serve all over Denver, CO, including:
Capitol Hill | LoDo (Lower Downtown) | Highland | Cherry Creek | Washington Park | River North Arts District (RiNo) | Uptown (North Capital Hill)  | Baker (South Broadway) | Athmar Park | Five Points | Congress Park | Park Hill | City Park | Cheesman Park | Sloan's Lake | Platt Park | Sunnyside | Berkeley | Curtis Park | Stapleton | West Highland | Belcaro | Hilltop | Montclair | Cole | Cherry Creek North | Globeville | University Hills | Whittier | Virginia Village | University Park
Kane Dulin McQuinn Young Fights For Denver Pedestrian Accident Victims
After you or a loved one has experienced a pedestrian accident in Denver, it may be difficult to navigate what to do. Insurance companies and medical institutions may be overwhelming you with questions – and you have no idea what's next.
That's one of the benefits of working with our Denver personal injury attorneys. Our law firm can work with you to solve your legal issues while you focus on healing.
Starting proceedings in your Denver pedestrian accident case is as easy as requesting your free, no-obligation case review. In this consultation, we'll examine the details of your pedestrian case, talk to you about what you need, and give you our best recommendations.
So get the compensation you deserve after you or a loved one is injured. Contact our Denver pedestrian accident lawyers and request your free, no-obligation pedestrian case review today. A real member of our team will be in touch with you within 24 hours to get you started.