Has you or a loved one's life changed drastically after a catastrophic injury caused by a careless individual or organization? If this describes what you are experiencing, you may be able to bring a case in a Colorado court of law.
The Firm of Kane Dulin McQuinn Young knows how to utilize the power of the courts to bring your case to a successful resolution. As trial-proven lawyers, we have had millions in successful settlements and jury verdicts for our clients.
Getting started working with us is easy. Reach out for your free, no-obligation case review with our Denver catastrophic injury lawyers.
What is a Denver Catastrophic Injury?
A catastrophic injury is any injury that yields permanent impairment of the victim. According to the American Medical Association (AMA)'s Guides to the Evaluation of Permanent Impairment, permanent impairment is "a loss or loss of use or derangement of any body part, organ system or organ function."
The AMA utilizes the permanent impairment rating system to fully estimate the severity of the injury and how it will likely impact the individual's ability to perform Activities of Daily Living besides work.
What Type of Injury Could Be Classified as Catastrophic in Denver?
Examples of catastrophic injuries that can fall under permanent impairment include:
Loss of Limbs, Digits, or Other Body Parts
Amputation Stemming From Injury or Infection
Blindness
Hearing Loss
Internal Organ Damage
The standard of permanent impairment is how the federal government and many states (including Colorado) evaluate worker injury and temporary and permanent disability claims.
What Type of Accident May Lead to Catastrophic Injuries in Denver?
Here is a short list of accidents that may cause a catastrophic injury:
If you have experienced any of the above due to the negligence of an individual or organization, then you may have a potential case. Contact a trusted legal partner like our Denver catastrophic injury lawyers to explore your options.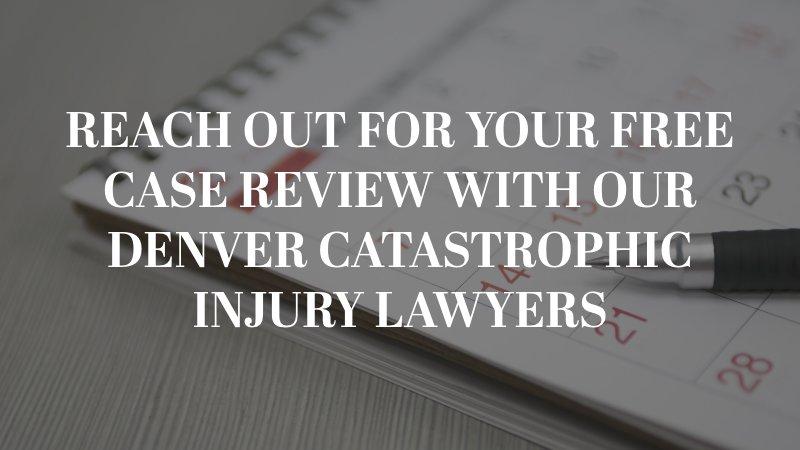 Does Colorado State Law Say Anything About Catastrophic Injuries?
While the state of Colorado does not explicitly define catastrophic injuries in statute, it does explore issues surrounding permanent impairment in the labor code.
Statute Of Limitations In Denver Catastrophic Injury Cases
As there is no specifically named catastrophic injury statute in Colorado, the statute of limitations governing the accident dictates how long an individual has to file a Colorado catastrophic injury case.
Those statutes of limitations are as follows:
Exceptions to the Statute of Limitations
The statute of limitations for personal injuries typically begins on the date the accident occurred. The statute may be paused if an injury is discovered at a later date as may be the case with some brain injuries.
In Denver wrongful death cases, the statute of limitations starts on the date of death. When the accident victim is a minor, the deadline to file a claim is two years from their eighteenth birthday.
Proving Liability in a Denver Catastrophic Injury Claim
Proving liability in a Colorado catastrophic injury claim requires proving a party or organization acted negligently towards the accident victim. In other words, the at-fault party either did something or failed to do something that resulted in the victim's injuries.
To legally establish negligence an attorney must prove the following:
The at-fault party owed the victim a duty of care. A duty of care is acting reasonably in a situation so as not to harm another person;

The at-fault party breached this duty of care;

This breach caused the victim's injury; and

The victim suffered damages as a result of their injury.
Negligence is a broad legal term covering all areas of recklessness from disregarding stoplights and causing car accidents to putting defective drugs on the market that result in birth defects.
Compensation in a Denver Catastrophic Injury Claim
Regardless of any legal definition, a catastrophic injury is a life-changing injury fraught with personal challenges and overwhelming medical expenses. A catastrophic injury victim may never regain employability or return to their previous profession.
Catastrophic injury claims are meant to return victim's as closely to their pre-accident state as possible or make them "whole" again. While no amount of money can actually turn back the clock, an injury award can take away the stress of paying for needed treatments, surgeries, and living expenses.
Monetary damages can also be a means to hold negligent parties responsible for the suffering they inflict on accident victims and their families. Thus providing victims with a sense of justice and peace of mind.
Two Types of Compensatory Damages in a Denver Catastrophic Injury Claim
There are two types of compensatory damages available in a Denver catastrophic injury claim. These are economic and non-economic damages. 
Economic damages pay for losses represented by fixed dollar amounts such as:
Current and future medical bills;

Loss wages;

Lost earning potential;

Ongoing home care;

Nursing facility care;

Rehabilitation and occupational therapy; and

Psychological counseling.
Non-economic damages are personal losses without associated costs. Generally, these are called pain and suffering, but can be separated into:
Mental and emotional trauma;

Physical pain and suffering;

Scarring and disfigurement;

Loss of quality or enjoyment of life; and

Loss of companionship.
Compensation in catastrophic injury claims is often higher than in other personal injury awards because of the:
The increased severity of the victim's injuries;

The reduced likelihood for recovery;

The higher costs of medical treatment; and

The victim's increased pain and suffering.
Catastrophic injury victims should contact experienced attorneys as soon as possible to reduce any chance of missing their Denver personal injury filing deadline.
Denver's Choice For A Catastrophic Injury Law Firm Is Kane Dulin McQuinn Young
Whether your catastrophic injury is attributable to a reckless driver or a careless employer, the firm of Kane Dulin McQuinn Young is standing by your side to support you.
Our Denver catastrophic injury attorneys know that the legal system can be overwhelming, so we do everything we can to take the lead on your case while you focus on recovery.
Starting your free catastrophic injury case review is as easy as booking an appointment. After making an appointment request, you'll hear back from our trusted legal team member within just 24 hours. Contact us today!