Have you or a loved one experienced a brain injury in Denver due to an individual or organization's negligent actions? If so, the law firm of Kane Dulin McQuinn Young wants to share that you may be eligible for compensation.
At Kane Dulin McQuinn Young, we strive to provide all Denver brain injury victims the justice they deserve as they deal with the aftermath of their injuries. Our track record of excellence speaks for itself, with millions in successful settlements and jury verdicts received throughout our extensive careers.
So get started with our Denver injury attorneys that Colorado residents trust with a free consultation – contact us to book your free Denver brain injury case review today.
Denver Brain Injury Resources
Our Denver Injury Case Results
We are proud to represent injury victims in Denver and across Colorado with integrity and fierce dedication. Some notable settlements and verdicts we have secured on behalf of our clients include:
$11,000,000 Settlement: Contested liability in wrongful death trucking case in Weld County, CO.
$8,000,000 Settlement: Contested liability in catastrophic injury trucking case in Denver County, CO.
$3,650,000 Settlement: Contested liability in burn injury case in Adams County, CO.
Why Choose Our Denver Brain Injury Attorneys at Kane Dulin McQuinn Young?
Kane Dulin McQuinn Young is proud to represent brain injury victims across Colorado. We believe there is no greater honor than fighting for those who cannot fight for themselves.
That is why we take the fight directly to insurance companies regardless of their size or reputation. When you choose Kane Dulin McQuinn Young for your Denver brain injury case, you get representation with the resources and experience necessary to pursue bad actors and negligent corporations.
Kane Dulin McQuinn Young wants you to receive the highest possible compensation available for your brain injury. You should never have to worry about paying out-of-pocket for future medical care and injury-related expenses.  
Contact Kane Dulin McQuinn Young in Denver today to schedule your free confidential brain injury accident consultation. One of our skilled attorneys can answer your questions about the claims process and how Kane Dulin McQuinn Young can best represent you.
How an Experienced Denver Brain Injury Attorney Can Help 
An experienced brain injury lawyer in Denver, like those at Kane Dulin McQuinn Young, does much more than represent your interests during settlement negotiations. Brain injury claims are complex legally and medically. These claims require time, skill, and expert knowledge to win.
Kane Dulin McQuinn Young begins work on brain injury claims right away. Building a strong brain injury case may include any of the following:
A thorough accident investigation;

Evidence collection;

Identifying and pursuing all liable parties and sources of compensation;

Working with experts to assess current and future medical needs and financial losses;

Filing a timely brain injury lawsuit;

Negotiating a just and proper settlement with any insurance companies; or

Taking your case to trial.
Most brain injury claims are settled before trial. However, Kane Dulin McQuinn Young will take your case forward to litigation if doing so is in your best interests.
What Is A Traumatic Brain Injury?
According to the National Institute of Neurological Disorders and Stroke, traumatic brain injury (TBI) is damage to the brain caused by a forceful bump, blow, or jolt to the head or body. Not all blows to the head produce a TBI.
A TBI may range in severity and can result in short-term or permanent disability. Traumatic brain injuries interfere with daily brain functions like thinking, understanding, moving, communicating, and acting. 
A victim may suffer from primary or secondary traumatic brain injury. In primary TBI, the brain damage and symptoms are immediate. 
Secondary TBI symptoms are from reactive internal brain processes and can take hours or even weeks to appear. 
The Two Types of Traumatic Brain Injury
A TBI may be penetrating or non-penetrating. In a penetrating TBI, an object pierces the skull and enters the brain. An example of a penetrating TBI would be a gunshot wound to the head. A non-penetrating TBI is the result of blunt external force causing the brain to collide with the skull. Falls often cause non-penetrating traumatic brain injuries.
Victims of serious accidents may suffer both a penetrating and non-penetrating TBI simultaneously. 
"The support, guidance, kindness and consideration they gave me through this process was what every client should expect from their attorneys."

– Bambi W.
National Brain Injury Statistics
Traumatic brain injury and TBI-related deaths are tracked nationally by the Centers for Disease Control and Prevention or CDC. The CDC collects and reports data on TBI to better understand:
How many people are affected by TBI;

Who is at the highest risk of TBI;

The most common causes of TBI; and

Whether TBI-prevention programs are working to reduce TBI.
The CDC monitors TBI as it is a major cause of death and disability in the United States. In 2021 alone, there were more than 69,000 TBI-related deaths or 190 TBI-related deaths per day.
While TBI can affect people of any age, the following people are more likely to suffer from a TBI:
Racial and ethnic minorities;

Service members and Veterans;

The homeless;

The incarcerated;

Survivors of domestic violence; and

Those people who live in rural areas.
Falls result in about 50% of all TBI-related hospitalizations. Older adults are more likely to be hospitalized and die from a TBI than all other age groups.
People 75 years and older had the highest number of TBI-related hospitalizations and deaths accounting for about 32% of hospitalizations and 28% of deaths respectively. To review these and other CDC brain injury statistics visit TBI Data | Concussion | Traumatic Brain Injury – CDC.
How Negligence Can Cause Traumatic Brain Injuries in Denver
Negligence is a legal concept referring to the failure of a person to exercise the level of care that a reasonable person would in the same or a similar situation. For example, a reasonable person would stop at a stoplight rather than proceed in a busy intersection causing a traffic accident and harming other drivers.
Proving negligence in a traumatic brain injury case requires an attorney or victim to establish the following elements:
The other party owed the victim a duty of care to act in a specific manner;

The other party breached that duty of care;

That breach was the proximate cause of the victim's injuries; and

As a result, the victim suffered compensable damages.
Negligence can exist in a variety of traumatic brain injuries including but not limited to:
Distracted driving and drunk driving accidents;

Slip and falls;

Dangerous or defective drugs;

Poor property maintenance; and

Medical malpractice.
A Denver brain injury attorney will investigate the source of their client's brain injury to determine whether one or multiple parties are liable for monetary damages.
Liability for Denver Brain Injury Cases
A liable party's insurance company may dispute responsibility for a brain injury or try to shift blame for the victim's injuries to the victim to avoid a costly payout. Colorado insurance companies do this because the state follows the modified comparative negligence system.
Under this system, people involved in accidents who are found to be 50% or more at fault for their injuries cannot recover compensation from the other party to the accident. 
Accident victims who are less than 50% at fault for their injuries will have their compensation amount reduced by their percentage of fault. 
For example:
A victim is awarded $100,000 in damages;

That victim is found to be 30% at fault for their injuries;

Their total award is reduced by $30,000; and

They are left with a total compensation amount of $70,000.
This makes the evidence-gathering process extremely important for both parties. Types of evidence used to prove liability in a Denver brain injury case may include any of the following:
Traffic camera or store security footage;

Eyewitness statements;

Police reports;

Cell phone records;

Black boxes recovered from commercial trucks;

Safety records;

Personnel records;

Medical records;

Photographs of the accident scene, damages, and injuries; and

Maintenance records.
Evidence can disappear with time. Eyewitnesses can move and memories can fade.
Certain business records may be discarded after a few months. While others, like camera footage, may be destroyed daily.
After an accident, be sure to collect any accident scene evidence right away. Then call an experienced Denver brain injury lawyer. 
An independent accident investigation should start as soon as possible.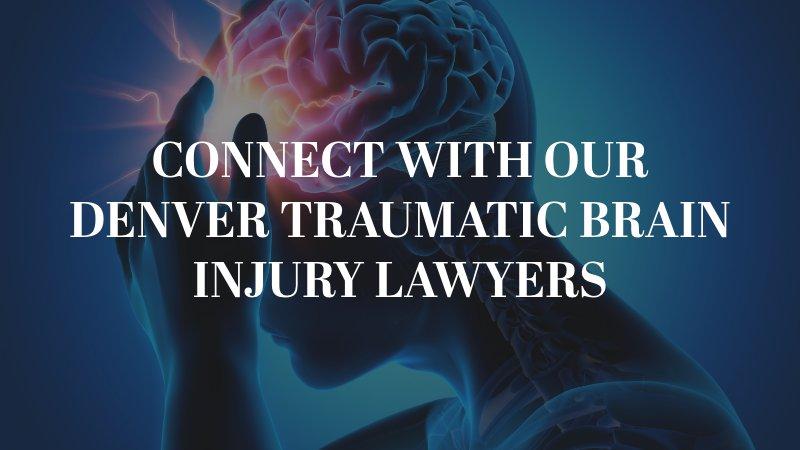 The Brain Injury Claims Process
The brain injury claims process usually begins with retaining a brain injury attorney. An experienced Denver brain injury lawyer will gather the necessary evidence to file an insurance claim against the at-fault party's insurance company.
Typically, the insurance company will deny the claim, deny parts of the claim, or offer an insufficient settlement for the victim's brain injuries. This is a common practice and leads to ongoing negotiations between the victim's attorney and the insurance company.
Whenever possible, the victim's attorney and the insurance company will reach a settlement that covers current and future brain injury expenses and medical care. When a settlement cannot be reached, the victim's attorney will proceed with a civil lawsuit for damages.
Most brain injury claims are settled before a case reaches trial because trials are risky for both the victim and the insurance company. Neither can be sure of how a jury will rule on a case or how long a trial may last.
However, victims of brain injuries should not be quick to accept a settlement and should never accept a settlement before being released from their doctor's care. Always have any settlement offers reviewed by an experienced brain injury attorney. 
Once a settlement is accepted, no further compensation can be obtained.
Common Reasons Individuals Receive Brain Injuries in Denver
The Brain Injury Association of America reports that the most common causes of brain injuries include:
Additionally repeated injury to the brain compounds issues regarding functionality. The more repeated brain trauma occurs in an individual, the more long-term side effects will plague the victim.
For instance, if someone received a concussion as a result of a sports-related accident, and then they were the victim of a pedestrian accident in Denver, their brain functionality would likely be more degraded than someone who just experienced one of these situations.
Are Some People More Likely to Suffer a Traumatic Brain Injury?
Males experience nearly 80% of all TBIs as they are more likely to engage in high-risk activities and professions like:
Contact sports;

Military and police work;

Gang violence.
People over 65 and children under 17 are also at high risk for TBIs due to their increased risk of falling. Other common causes of traumatic brain injuries are the following:
Domestic violence;

Loss of balance;

Slip and falls;

Truck accidents;

Motorcycle accidents; and

Medical malpractice.
Regardless of the cause, recognizing a traumatic brain injury is vital to receiving prompt treatment and avoiding long-term complications. 
Symptoms of a Traumatic Brain Injury
Always seek a complete medical examination after a blow or jar to the head and body. Should any of the following signs or symptoms of a TBI appear following an accident, contact a medical provider right away:
Behavior changes or mood swings;

Confusion;

Memory problems;

Convulsions;

Dilated pupils;

Dizziness;

Fatigue;

Headaches;

Nausea;

Vomiting;

Agitation;

Sensitivity to light and smell;

Changes in sleeping patterns; and

Slurred speech.
Small children may cry inconsolably or refuse food or drink.
Diagnosing Traumatic Brain Injury
Only a trained medical professional can diagnose a TBI. They may use any of the following along with presenting symptoms to reach a diagnosis:
A neurological evaluation;

Imaging tests such as a CT scan or MRI; and

A blood test like The Banyan Brain Trauma Indicator™ (BTI) looks for proteins in the blood that indicate concussion or mild TBI.
Do not wait for symptoms to appear before seeking help as this may cause complications or long-term damage. 
Treating Traumatic Brain Injury in Denver
Treatment for TBI depends on the severity of the injury. Some traumatic brain injuries can heal with a few weeks of rest at home.
Other sufferers of traumatic brain injuries need time in the hospital, surgery, and intense treatments. Treatments may include any of the following and more:
Psychological counseling to cope with the stress of recovery;

Physical rehabilitation;

Occupational therapy; and

Speech therapy.
It may take years for victims of severe TBIs to return to their daily activities. When they do, their daily routine may be a much modified version.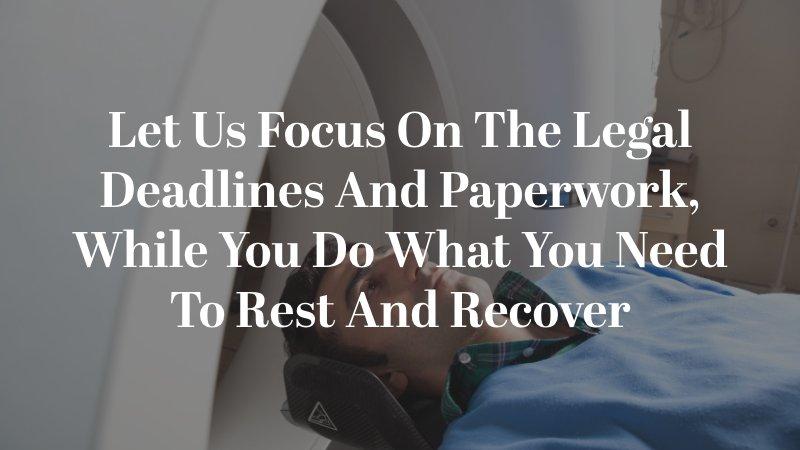 Is There Such A Thing As A "Normal" Life After A Brain Injury in Denver?
Traumatic brain injuries can have long-term effects on the victim's life; families of those suffering from brain injuries may not realize how much of an impact an injury will have on them.
In Colorado, there is a legal status for if an individual has substantial difficulty with activities of daily living (ADLs). If, after a head injury, an individual has limited function, that individual may be classified as permanently impaired.
Activities of Daily Living (ADLs)
According to research published by the National Institutes of Health, activities of daily living are essentially related to personal care.
An experienced Denver brain injury attorney like those as part of Kane Dulin McQuinn Young team can help victims and their families determine if their brain injury case causes permanent impairment and if it is worth pursuing in a court of law.
Statute Of Limitations In Denver Brain Injury Claims
For most Denver personal injury cases, including brain injuries, individuals and their families have a statute of limitations of two years for bringing their case.
Denver Brain Injury FAQs
How Can a Denver Brain Injury Lawyer Assist Me in Pursuing a Case?
Our expertise in brain injury cases is invaluable. We understand the intricate legal aspects and will tailor advice to your unique situation. We'll assess the details of your case to determine the best strategy.
Evidence is key. We'll meticulously gather medical records, expert opinions, and accident details to build a compelling case. Negotiation is our strength, and we'll communicate with insurance companies and at-fault parties for a fair settlement.
If negotiations fall short, we're ready to represent you in court. Our priority is ensuring you receive the compensation you deserve.
Throughout the process, we'll provide unwavering support. Reach out for a free consultation and let us help you navigate this challenging journey.
Do I Need to Go to Court for My Denver Brain Injury Case, or Can It Be Settled Out of Court?
Whether your Denver brain injury case goes to court depends on the specifics. Many cases are settled out of court through negotiation, sparing you from a lengthy legal process.
Settlements often result in fair compensation and a quicker resolution. However, if negotiations don't yield a satisfactory outcome, pursuing the case in court might be necessary.
Our goal is to achieve the best outcome for you, whether through negotiation or litigation. We'll guide you based on your circumstances and preferences.
Are There Unique Challenges Associated with Brain Injury Cases in Denver?
The invisible nature of brain injuries can make proving their severity complex. Long-term effects can impact daily life, making accurate projections of medical costs and future care essential.
Emotional and psychological aspects often accompany brain injuries, requiring sensitive handling. Determining liability might involve analyzing accident circumstances and potential negligence.
At Kane Dulin McQuinn Young, our experienced team understands these challenges and is here to navigate them with you. We'll provide personalized guidance to ensure your rights are protected.
How Do You Establish the Severity and Impact of a Brain Injury in a Legal Case?
Establishing the severity and impact of a brain injury in a legal case requires a comprehensive approach:
Medical Experts: Medical professionals provide insights into the injury's physical and cognitive effects.
Medical Records: Detailed records document the injury, treatment, and prognosis.
Accident Details: Information about the circumstances leading to the injury.
Expert Opinions: Testimonies from experts who can assess the injury's long-term consequences.
Impact on Daily Life: Demonstrating how the injury affects your ability to function.
Economic Impact: Evaluating the financial impact of medical costs, lost wages, and ongoing care.
By skillfully presenting this evidence, we'll build a strong case that accurately portrays the severity and impact of your brain injury, ensuring you receive fair compensation.
Areas We Serve
We serve all over Denver, CO, including:
Capitol Hill | LoDo (Lower Downtown) | Highland | Cherry Creek | Washington Park | River North Arts District (RiNo) | Uptown (North Capital Hill)  | Baker (South Broadway) | Athmar Park | Five Points | Congress Park | Park Hill | City Park | Cheesman Park | Sloan's Lake | Platt Park | Sunnyside | Berkeley | Curtis Park | Stapleton | West Highland | Belcaro | Hilltop | Montclair | Cole | Cherry Creek North | Globeville | University Hills | Whittier | Virginia Village | University Park
Kane Dulin McQuinn Young Can Bring Justice To Your Denver Brain Injury Cases
Brain injuries in Denver can have a profound impact on people's lives, often resulting from accidents or medical negligence. Seeking a brain injury claim in Denver can provide financial compensation to cover medical bills, rehabilitation, and lost wages. However, dealing with insurance companies and navigating the legal process can be daunting.
Having professional legal representation can make a significant difference in advocating for your rights. Brain injuries may also result from medical malpractice, adding further complexity to the situation. Remember, seeking help and support is crucial for proper medical attention and a chance at a brighter future.
It is emotionally distressing to struggle or to watch a family member struggle with simple tasks after a brain injury. We understand that fact, and you will not find more compassionate and caring legal support than with our Denver brain injury lawyers. Request your free, no-obligation complimentary brain injury case review today. You'll hear from a member of our law firm within just 24 hours to schedule your appointment with our Denver brain injury lawyers.