Are you or someone you love suffering from a spinal cord injury due to the negligence of an individual or business? If so, the firm of Kane Dulin McQuinn Young wants to share with you that you likely have a right to compensation under Colorado law.
At Kane Dulin McQuinn Young, we know how challenging it is in the wake of a spinal cord injury. That's why we focus on delivering high-quality legal advice so that you or your loved one can focus on the road to recovery. With millions in successfully settled and litigated cases, we know what it takes to get the maximum possible compensation for your spinal cord injury case.
So get in touch with the personal injury firm that Colorado trusts. Book your free, no-obligation case review with our Denver spinal cord attorneys.
Denver Spinal Cord Injury Resources
Our Denver Injury Case Results
We are proud to represent injury victims in Denver and across Colorado with integrity and fierce dedication. Some notable settlements and verdicts we have secured on behalf of our clients include:
$11,000,000 Settlement: Contested liability in wrongful death trucking case in Weld County, CO.
$8,000,000 Settlement: Contested liability in catastrophic injury trucking case in Denver County, CO.
$3,650,000 Settlement: Contested liability in burn injury case in Adams County, CO.
Exploring The Spinal Column And Spinal Cord
Having a foundational understanding of the spine's purpose in the human body only helps you navigate the aftermath of what you or a loved one could experience in a spinal cord injury case.
How The Spine Works
The spine and its requisite parts are one of the largest systems of bones and nerves in the human body and comprise two systems. The spinal column is the system of 24 individual vertebrae (bones of the spine), tailbone (sacrum), and discs (spongey cartilage that acts as a cushion between each vertebra).
Within the spinal column's bones is the spinal cord, the complex system of nerves that translates information from the brainstem at the base of the brain through the entire body. As the spinal cord runs from the brain to the low back, it communicates important information from all parts of the brain to the torso and upper and lower extremities.
A common way the spinal column can become injured is if any vertebrae or discs become damaged due to blunt trauma.
Facts About Spinal Cord Injuries
Spinal cord injuries (SCIs) are unfortunately all too common in the United States. According to estimates by the National Spinal Cord Injury Statistical Center (NSCISC):
294,000 individuals in the United States live with an SCI as of 2020
17,810 new non-fatal SCI cases are reported each year
78% of new SCI cases are male
43 is the average age of onset for an SCI
Types of Spinal Cord Injuries in Denver
There are four types of spinal cord injury. These are cervical, thoracic, lumbar, and sacral injuries.
The spinal cord is surrounded by rings of bone called vertebra. These bones make up the spinal column. Typically, the higher damage occurs in the spinal column, the more serious the resulting injuries. 
The spinal column is divided into four sections according to the location of the vertebra. The seven vertebrae in the neck are the cervical vertebra. 
Cervical spinal cord injuries are related to the loss of arm and leg function or tetraplegia. The 12 chest vertebrae are the thoracic vertebra. A thoracic injury may affect the chest and legs resulting in paraplegia.
The vertebrae in the lower back between the thoracic vertebra and the hip bone are the lumbar vertebra. Injury to these and the sacral vertebra, which run from the pelvis to the end of the spinal column, may cause some loss of hip and leg function.
Complete and Incomplete Spinal Cord Injuries
Spinal cord injuries may be complete or incomplete. A complete spinal cord injury is one in which there is permanent damage to the area of the spinal cord that is affected. Paraplegia or tetraplegia are complete spinal cord injuries.
Incomplete spinal cord injuries refer to partially damaged areas of the spinal cord. In an incomplete spinal cord injury, movement and feeling are impaired based on the injury location and its severity.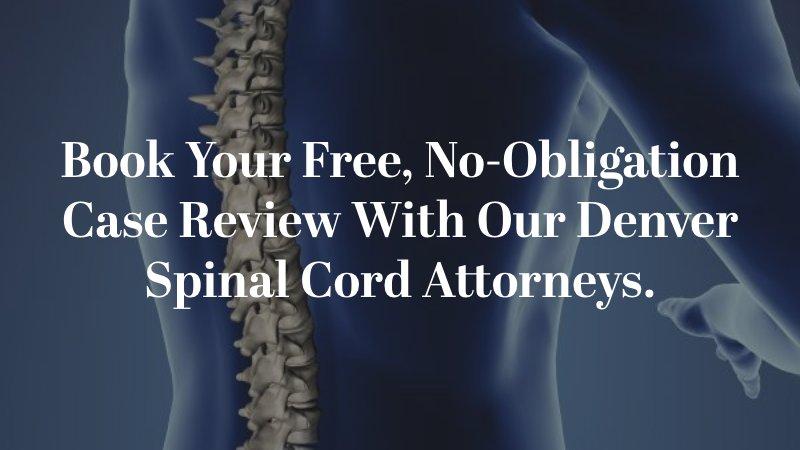 Spinal Cord Injury Symptoms
Spinal cord injuries can affect the body's ability to sense, feel, move, and act. 
Common spinal cord injury symptoms include but are not limited to:
Loss of movement or reflexes;

Loss of or altered sensations;

The inability to distinguish temperature;

Loss of bowel or bladder control;

Changes in sexual function;

Dizziness or balance problems; and

Difficulty breathing or coughing.
Any changes in an accident victim's condition or onset of new symptoms should be addressed by a medical professional right away. Some spinal cord injuries are difficult to detect immediately following an accident. 
How Individuals Receive Spinal Cord Injuries in Denver
As previously discussed, spinal cord injuries often occur due to blunt trauma that injures the spinal column. This can occur due to the following:
Motor vehicle-related accidents in Denver are the most common cause of SCI, with 38.6% of incidents attributable to accidents and crashes.
Suppose any of these personal injuries above is attributable to a third party's negligent action or inaction. In that case, you can likely bring a Denver personal injury case against them in a Colorado court of law.
"The support and guidance they gave me through the process is simply unmatched. During a very difficult time they were able to alleviate a great deal of the stress from this process so I could focus on the things I needed to."

– Colleen
Compensation for a Denver Spinal Cord Injury
Compensation for a spinal cord injury depends on several factors. Although, the following plays a large part in any compensation award:
The extent of the victim's injuries;

The victim's prognosis for recovery;

The impact of the victim's injuries and related accident on the victim's life as a whole; and

The total medical damages in the case.
Spinal cord injuries require immediate and constant medical attention to identify, assess, and treat. Often spinal cord injury victims need medical experts and specialty care to rehabilitate and regain mobility in their bodies. 
These treatments, while necessary, can be costly. Colorado allows qualified victims of spinal cord injuries to recover from medical treatments and much more.
Damages available in spinal cord injury cases include coverage for:
Lost income;

Loss of earning potential;

Medical care and rehabilitation;

Medical equipment;

Home and vehicle modifications;

Long-term care and nursing home care;

Loss of use;

Pain and suffering; and

In rare situations, punitive damages. The other side's actions were in willful disregard for your safety.
To find out if you qualify for spinal cord injury compensation, contact an experienced Denver personal injury attorney today. 
Denver Spinal Cord Injury FAQs
What Legal Options Are Available to Me if I or a Loved One Has Suffered a Spinal Cord Injury in Denver?
Facing a spinal cord injury in Denver can be overwhelming, but understanding your legal options is crucial. We're here to provide clarity and guidance during this challenging time.
When such an injury occurs, you have legal avenues to explore:
Personal Injury Claims: If the injury resulted from someone else's negligence, you may be eligible to file a personal injury claim. This can help you seek compensation for medical expenses, pain, suffering, and more.
Medical Malpractice Claims: If the injury occurred due to medical negligence, a medical malpractice claim might be appropriate. This holds medical professionals accountable for their actions.
Product Liability Claims: If a defective product led to the injury, a Denver product liability claim can help you pursue compensation from the manufacturer or distributor.
Workers' Compensation: If the injury happened at the workplace in Denver, workers' compensation benefits may be available to cover medical costs and lost wages.
Social Security Disability: In severe cases, where the injury leads to disability, you may be eligible for Social Security Disability benefits.
Wrongful Death Claims: If a loved one's spinal cord injury resulted in death, a Denver wrongful death claim can seek compensation for the family's losses.
Navigating these options requires legal expertise. We're here to evaluate your case, provide guidance, and determine the best course of action. Your well-being and rights are our priority. Reach out for a free consultation, and let us help you explore the legal paths available to you after a spinal cord injury in Denver.
How Can a Denver Spinal Cord Injury Lawyer Assist Me in Pursuing a Case?
Our Denver spinal cord injury attorneys can assist you in pursuing a case in a number of ways. We can:
Help you understand your legal rights and options: A spinal cord injury can be a very complex legal matter. Our experienced lawyers can help you understand your rights and options and make sure that you are taking the best course of action.
Gather evidence: Our lawyer can help you gather evidence to support your case, such as medical records, police reports, and witness statements.
Negotiate with the insurance company: The insurance company for the person or entity responsible for your injuries will likely try to offer you a low settlement. Our lawyers can negotiate with the insurance company to get you the maximum compensation you deserve.
File a lawsuit: If the insurance company is not willing to make a fair offer, our attorneys can file a lawsuit on your behalf.
Represent you in court: If your case goes to trial, our lawyers will represent you in court and fight for your rights.
We understand that being injured in a spinal cord injury in Denver can be a very difficult and overwhelming experience. We are here to help you through this difficult time and get you the compensation you deserve. Contact us today for a free consultation
Areas We Serve
We serve all over Denver, CO, including:
Capitol Hill | LoDo (Lower Downtown) | Highland | Cherry Creek | Washington Park | River North Arts District (RiNo) | Uptown (North Capital Hill)  | Baker (South Broadway) | Athmar Park | Five Points | Congress Park | Park Hill | City Park | Cheesman Park | Sloan's Lake | Platt Park | Sunnyside | Berkeley | Curtis Park | Stapleton | West Highland | Belcaro | Hilltop | Montclair | Cole | Cherry Creek North | Globeville | University Hills | Whittier | Virginia Village | University Park
Contact Our Denver Spinal Cord Injury Attorneys
We're ready to demand justice in your spinal cord injury case. Contact our team today if you want a stalwart defender of your rights. You won't have to wait more than 24 hours to hear from someone about your free spinal cord injury case review. Reach out to get connected with our Denver spinal cord injury lawyers.